Between Midnight and Morning
by Cindy Gerard
Book
Description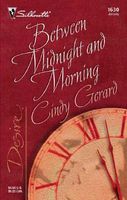 A tall, cool cowboy with a heartbreaker smile, J.T. Tyler had a line of women swooning in his wake. Then he met Alison Samuels, the town's new veterinarian, and found himself face-to-face with a challenge he couldn't ignore. J.T. wasn't interested in relinquishing his bachelor status, but he was definitely interested in learning what the new doc was like between midnight and morning.
Alison had moved to middle-of-nowhere Montana to start a new life—not start a fiery affair with a hunky young rancher. But she couldn't deny J.T.'s persistence...or fever-inducing powers of persuasion. After a few passionate nights wrapped in his muscular arms, suddenly Alison wondered if their sizzling relationship could survive the hours after dawn....
This book will leave you breathless. Although it is written in the third person, it is a very personal read. I felt like I was Ali being wooed by the dangerously sexy cowboy.

J.T., the perpetual bachelor, comes across as the heartbreaking cowboy, who gets caught up with the one girl he can't have. Ali isn't the usual protagonist that you come across in a romance novel. Although she is fiercely independent, she has a loving disposition, which draws J.T. to her on an emotional level that he doesn't know he has.
I give this book five out of five stars and if there was a sixth one available, it would get that one too. This novel is beautifully written and will peak your interest from the very first page.